This is an article about the feature film based on the Mighty Morphin Power Rangers TV series, but it's not part of the show's continuity.
Tagline:
Each has a Power, Each has a Purpose, and together they will face their Greatest Enemy. The Power is On.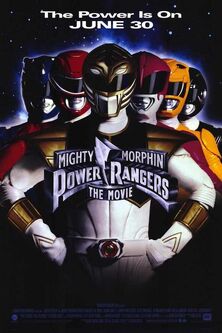 Mighty Morphin Power Rangers: The Movie (MMPR:TM, also known as Power Rangers: The Movie) is a feature film based on the Mighty Morphin Power Rangers TV series, featuring all of the actors from the TV series repraising their respective Ranger roles in this film. The main villain in the movie however, was Ivan Ooze , an intergalacticly feared and dispised but ancient villain who was bent on destroying Angel Grove and the world and has sought his revenge against the Power Rangers' mentor Zordon , destroying and striping him from his time warp, causing him to rapidly die. The Rangers' zords in the film were the Ninjazords , which were from Ninja Sentai Kakuranger.
The movie was distributed by 20th Century Fox and produced by the show's production company Saban Entertainment and was released on June 30, 1995. Critical reception for the film was mixed to negative, while fans gave the movie positive feelings (the movie currently has a 49% rating on Rotten Tomatoes). Athough reception was mediocre, the movie was a strong and massive box office success during the Summer of 1995 but opened at #4, behind Pocahontas, Apollo 13, and Batman Forever. The movie had come to VHS in December 1995 (in time for its Holiday season), DVD in 2003 by 20th Century Fox Home entertainment, and came to HD DVD on November 29, 2009. but the Blu-Ray release of the film hasn't even been released or announced yet.
The Movie later spawned a sequel, Turbo: A Power Rangers Movie (the starting point to Power Rangers: Turbo ) in 1997. Unlike this movie, Turbo was a box office and critical failure.
Article Directory
Edit